VPNs For Public Wi-Fi: 5 Reasons Why You Should Use One
The great thing about using public Wi-Fi is it is convenient and often free. However, it also comes with risks to your online privacy. Hackers and fraudsters can easily intercept this data and this is why Using VPNs for public Wi-Fi can not be overstated…
---
So, In this blog post today, we'll explore the main reasons to consider using VPNs for public Wi-Fi.
Many may not be fully aware of the different benefits of this kind of investment but there is very possibly more than you might think. Security and Privacy are obviously the main two but for anybody curious, there are plenty more to add to this.
Please keep reading to find out more about what these other benefits are, why this is important, and how you can get set up with the best VPN to use on your portable devices whilst using Public Wi-Fi.
At PrivacyPirate.xyz Online Privacy is something we believe to be very important and VPNs we think are one crucial area to explore further throughout the development of this website. So let's continue…
VPNs For Public Wi-Fi: 5 Reasons Why You Should Use One
---
There are many reasons why VPNs for Public Wi-fi are important for Online Privacy. These include;
Data Encryption
Enhanced Security
Anonymity
Preventing Data Theft
Protection From Government Surveillance
And of course, there are others but let's go over these 5 points in a bit more detail.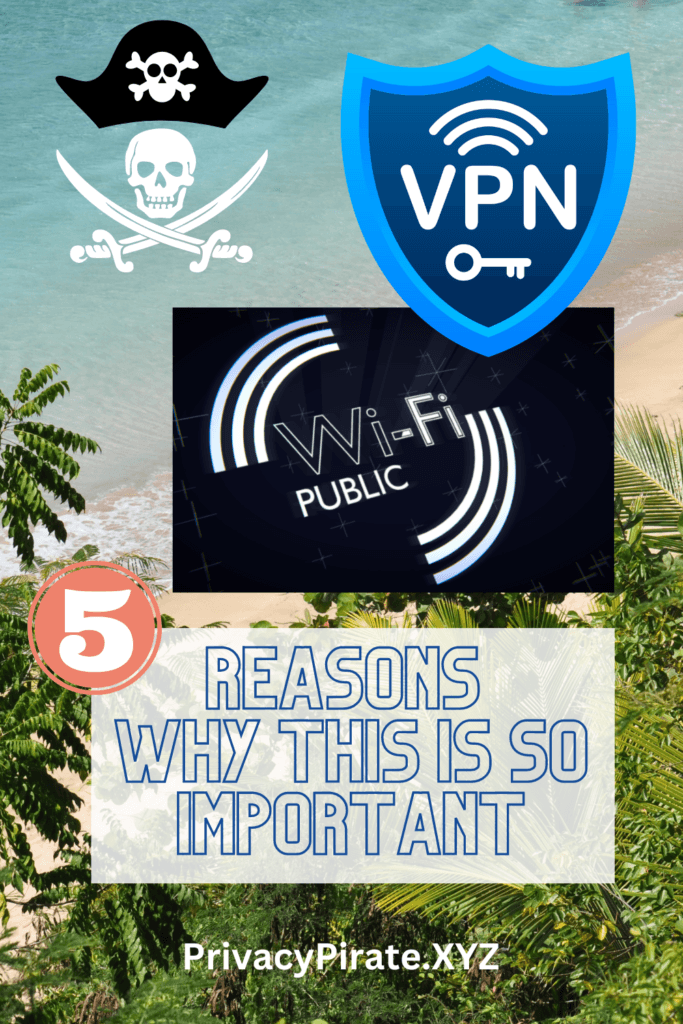 Now, Let's start here…
---
What Are The Online Privacy Risks of Public Wi-Fi
---
As technology advances, users increasingly rely on digital tools for many aspects of life such as communication, entertainment, and shopping. It is certainly one of the main luxuries of our day and age but this over-reliance on this kind of technology raises some important questions…
How much privacy is sacrificed in order to benefit from this kind of convenience when we are away from home?
Why do online privacy and public Wi-Fi present such unique challenges when it comes to securing user data?
What makes our devices so vulnerable away from home Wi-Fi or a secured Internet connection?
Really?
But here is the main point, security can be improved with VPNs for Public Wi-Fi and can help protect against malicious threats to our sensitive personal information and financial details when our guard is down.
We can take action to safeguard the risks associated with our digital activities in public places and take steps to protect their data while using public Wi-Fi networks.
However, we must be aware of the dangers posed by certain websites and protect ourselves against possible breaches of our online security. Cyber safety tips can make all the difference in properly navigating the web with confidence.

---
The Dangers of Using Public Wi-Fi without a VPN
---
Using public Wi-Fi without a VPN puts your digital security at risk. Without a VPN, any data that is transmitted over the public Wi-Fi connection is open to be intercepted by hackers or other cyber criminals.
Your sensitive personal or financial data could potentially be accessed and used to harm you when you least expect it.
Exactly why using a virtual private network (VPN) to secure your connection is a good idea to consider.
Protecting yourself from these risks and keeping your personal information safe from prying eyes is an absolute must.
Don't let vulnerable public Wi-Fi stop you from staying connected;
For this investing in a reliable VPN will safeguard both your browsing experience and help give you further peace of mind.
I shall elaborate on this in more detail below…
How a VPN Can Help Protect YOU
---

Netizens (keen users of the internet) today are facing a tremendous challenge when it comes to protecting their online privacy. With hackers, government surveillance, social networks, and malicious software all attacking your privacy in one way or another, more now than ever we need reliable technology that can keep our information safe and secure.
Virtual Private Networks (VPNs) for this reason are an absolute game changer.
VPNs use industry-leading encryption technologies to create an encrypted "tunnel" from your computer to a secure server. This tunnel is impenetrable by anyone except those authorized on both sides of the connection;
So no one can intercept your data while it travels through the virtual tunnel.
Furthermore, VPNs also hide your IP address so even your ISP can't trace you when visiting certain websites if you've downloaded or shared any type of confidential information.
So don't wait around! Protect yourself with a high-quality VPN today and keep those nosy hackers away.

---
Tips for Choosing a VPN that is Right For You
---
When searching for a VPN, it is important to find a service that suits all of your needs and offers the best value. To get the most out of your virtual private network, consider how much security the service provides, what features and protocols it uses to protect your data, and its record for customer service.
For example, choosing a provider with military-grade encryption or offering specialized servers for streaming video content can help you get the online privacy and reliability you're looking for.
Furthermore, a reputable vendor will not track or store any of your browsing activities, ensuring maximum anonymity and data protection. Good customer reviews can also be a great indication of the level of customer service you should expect from the company.
When selecting the right VPN for you, take some time to review these points carefully — this will help ensure that you find the best possible provider that helps meet your needs.

---
Setting up a VPN on your Portable Device
---
Knowing how to protect your online security and privacy is essential in today's digital age, and a Virtual Private Network (VPN) can help you do just that.
Setting up a VPN on your device will ensure that all of your online activities are secure and private. To get started, you'll need to research a reliable VPN provider and select the plan that best fits your needs.
Once you've created an account and installed the software, you'll be able to choose from a range of servers around the world and establish a secure connection in just a few clicks.
You can then start browsing securely as long as you're connected to your VPN.
Setting up a VPN may seem intimidating at first, but completing these simple steps will give you peace of mind knowing that your data is safe whenever you go online.

Further Steps To Protect Your Online Privacy
---
Protecting your online privacy is an important practice in today's digital age. Taking proper steps to safeguard and secure your data is a must, not only for you but for all of the people around you.
Protecting your online privacy helps keeps your personal information secure and minimizes the chances of fraud and identity theft. And not only this, but it also prevents your private data from being shared with any third-party companies without your consent – protecting it from misuse and exploitation by malicious individuals or entities.
By taking the necessary steps to protect your online privacy, you can rest assured that no one will have access to anything without your explicit permission. 
Keeping your personal information private from cyber criminals and other third parties should be a priority.
If you connect to the internet via public Wi-Fi, it is essential to take steps to protect your online privacy. With the help of a VPN, you can secure your connection, encrypt traffic, and safeguard your data and activities.
Whether you select a free or paid subscription, it is important to do research on any service provider before utilizing its services. Be sure to read customer reviews and make sure that their system works with whichever device you use.
Finally, remember that whatever service you choose must provide strong security protocols and offer other features like no-logging in order to keep your data protected.

---
What Is The Best VPN For Use with Public Wi-Fi?
---
Really this is what it all boils down to so many companies claim to have the best VPNs and surely there can only be one. At Privacy Pirate we are still yet to look at every single VPN that is available but our current top pick for the Best VPN to use with Public Wi-Fi is NordVPN. We like Nord because of its privacy features such as a Zero-Logs policy and feel till we find something else better this will be the one we recommend.
Or if you would like to continue to read more VPNs and Online Privacy Check out our Blog Here<<
Many thanks for reading and till next time me hearties ARRR 🏴‍☠️
About The Author